Description
Hostgator is one of the most prominent web hosting service providers that you can find out there. It was established back in the year 2002. Over time, it has attracted lots of customers and maintained a strong reputation.
As of now, Hostgator has got around 400,000 customers. If you are looking for a reliable hosting company, Hostgator is one of the best options to consider. One of the most prominent features available on the hosting services offered by Hostgator is that they are affordable and easy to manage.
If you are looking forward to hosting your website without much technical knowledge and expertise, you can take a look at Hostgator hosting services. On the other hand, you can make sure that you host your website or web application without spending a lot of money as well.
[lwptoc]
General Hosting

Review & Features

of Hostgator.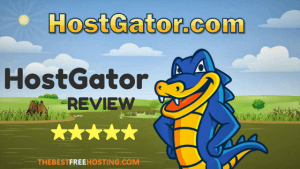 Before you decide to go ahead with Hostgator, you need to take a look at Hostgator reviews and general features of the hosting service that is available to you.
You can see that Hostgator is offering a large number of hosting plans. They include dedicated servers, VPS hosting, shared hosting, WordPress hosting and even cloud hosting plans.
Hostgator offers you excellent features in their hosting plans. Find the plan that is best suitable to take your business online and signup for a hosting account. Here is a detailed overview of the hosting plans that you can get with the assistance of Hostgator.
Hostgator Shared hosting Review
If you are planning to start a new website, which will receive low traffic, shared hosting is the best option available to go ahead with. This is the cheapest hosting package offered by Hostgator.
When it comes to shared hosting, you will be sharing all the resources of the server with a few other customers on shared hosting. Therefore, it is important to keep in mind that over-consumption of resources by another party can negatively impact your website. You need to keep this fact in your mind before jumping on a shared hosting plan.
Breakdown of shared hosting plans offered by Hostgator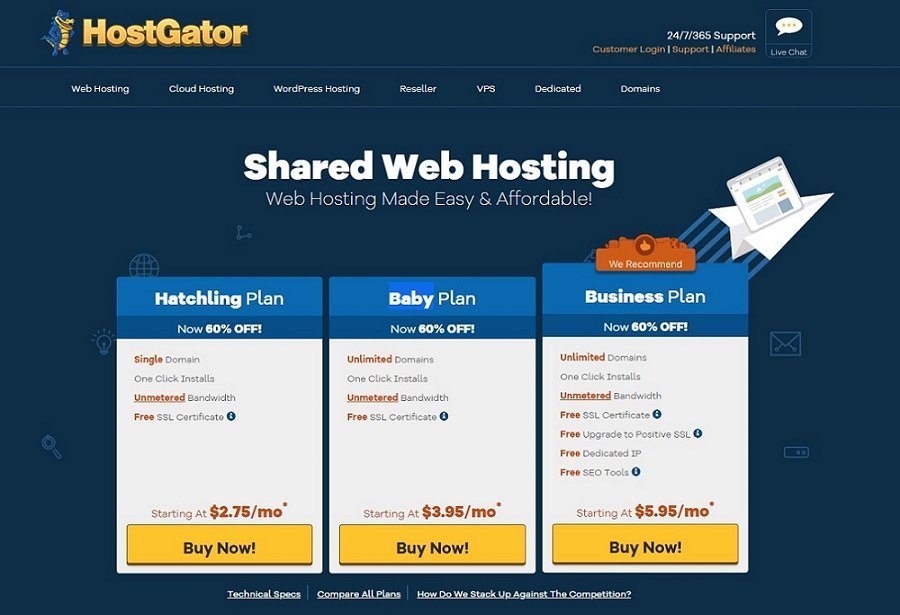 Shared hosting plans offered by Hostgator are ideal for beginners and new websites. You will be provided with great overall assistance when setting up the website. When you take a look at the shared hosting plans offered by Hostgator, you will see them available in three different levels.
Hatchling Hosting Plan
The hatchling will allow you to host only one website at a time. It will come along with a one-click WordPress installer as well.
Baby Hosting Plan
The baby plan will provide you with the chance to host an unlimited number of websites. You will get all the features of the Hatchling plan included in your baby plan.. In addition to that, you will also be able to receive many add-ons such as private SSL.
Business Hosting Plan
The business plan is ideal for people who want to host a medium size website. The plan comes to you with a free SSL certificate. In addition to that, you will receive a dedicated IP as well. Having this option at hand, allows you to scale your website quickly.
Cloud Hosting, WordPress Hosting, VPS, and Dedicated Hosting Reviews
Hostgator Cloud Hosting Review
When it comes to shared hosting, your account will be limited to a single server. When you take a look at cloud hosting, you will figure out that your account is managed by multiple servers. Therefore, you can get better performance when compared to shared hosting.
The issues inherent to shared hosting can be eliminated through this method. If you are expecting your website or web application to receive frequent traffic spikes, you need to go ahead with cloud hosting.
Hostgator WordPress Hosting Review
People who search for hosting to launch their WordPress websites can take a look at WordPress hosting packages. It would provide you with the opportunity to optimize the performance of the WordPress website.
On the other hand, you can ensure that your website is protected from frequent and common WordPress attacks, which might take place. Therefore, all WordPress users are strongly encouraged to go ahead with WordPress hosting packages offered by Hostgator.
Hostgator VPS Hosting Reviews
When you go ahead with VPS hosting, you will be provided with the chance to manage all your virtual resources within the cloud.
It is another great option available for the websites, which can expect to receive traffic spikes regularly. You can ensure that your website doesn't go down during a traffic spike at the time of using VPS hosting.
Hostgator Dedicated Server Hosting Review
Dedicated server hosting packages offered by Hostgator are the most expensive. However, you will receive an outstanding experience from them.
In other words, you can have your website up and running at all times, regardless of the traffic that you receive.
You will be provided with a dedicated server, along with all the resources. However, dedicated hosting offered by Hostgator comes with a great sense of responsibility as well. That's because you will need to manage and maintain everything on your own.
Let's Look More Into Some Features & Reviews
Hostgator customer support.
Hostgator is well known for its excellent customer support among other hosting service providers. You have access to 24×7 live chat and phone support.
When you take a look at your Hostgator dashboard, you will discover the support portal. This support portal provides you instant access to answers to your questions.
There is an extensive knowledge base, which has got more than 680 different articles. On the other hand, you can also discover more than 500 different video tutorials on Hostgator.
All the accounts on Hostgator are provided with a comprehensive guarantee by the CEO. If you have a major issue with your hosting, you can even get Adam to take a look at it. You will be able to receive a personal response from him to the issue that you have.
Response time of Hostgator hosting plans
At the time of purchasing a hosting package, you need to take a look at the response time as well. It creates a direct impact on the page load time of the website.
Websites in today's world are loaded with lots of images. In such a situation, the response time offered by the host matters a lot.
You can usually get a super-fast response of under 40ms when you are within the United States. It depends on the country that you live in. However, Hostgator guarantees that people in other parts of the world can receive a response of under 700ms.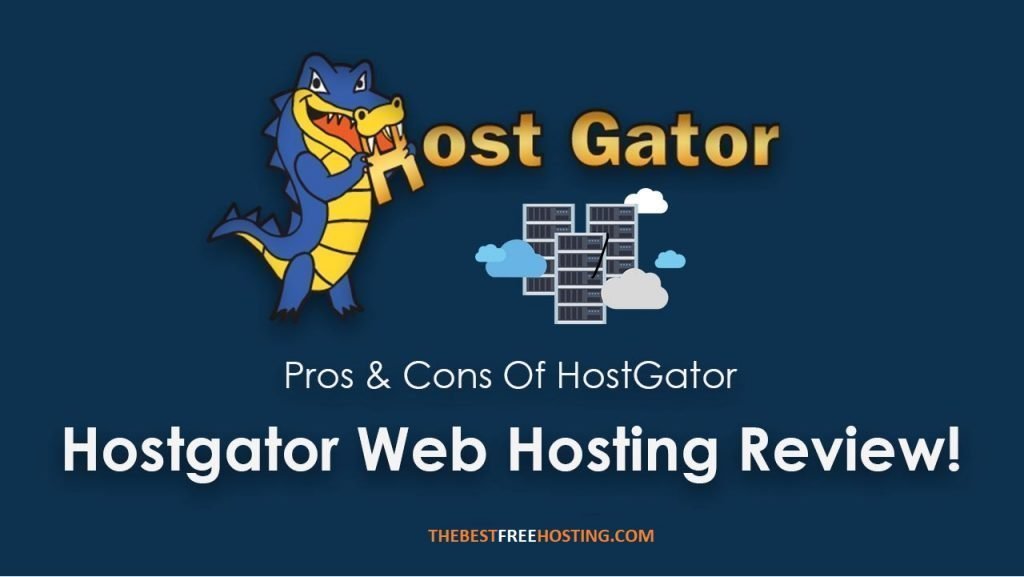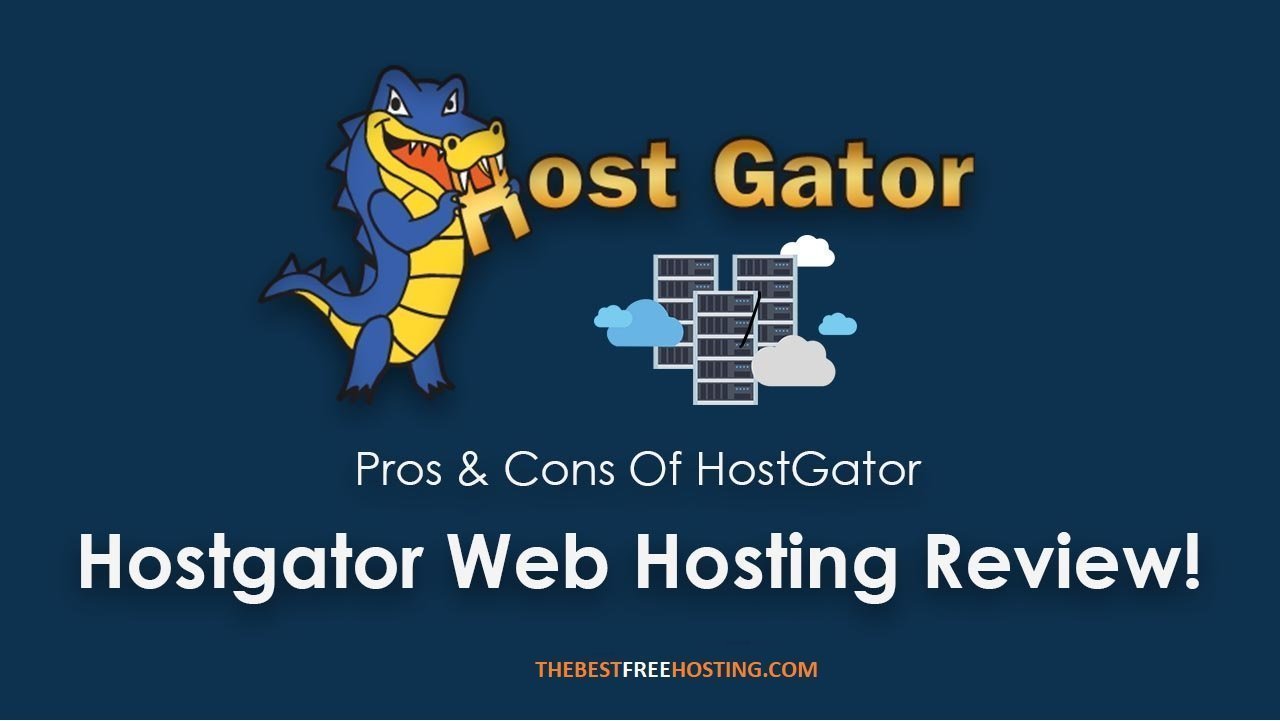 Pros of Hostgator hosting
– Hostgator is a reliable hosting provider
When searching for a web host, you need to make sure that it is reliable.
Otherwise, there is a high possibility for you to run into lots of unexpected issues in the long run. Hostgator guarantees that they are in a position to provide you with a 99.99% uptime guarantee.
Money-back guarantee
You don't have anything to lose when you choose to host your website with Hostgator. That's because they provide a generous money-back guarantee. Most web hosting companies offer you a 30days money-back guarantee.
HostGator guaranteed you up to 45 days. You have a longer time to test out their system and if it's not right for you, ask for a refund. The money returned to your account with no questions asked.
Flexible billing periods
The billing periods offered by Hostgator are flexible. In other words, you have the freedom to either go ahead with monthly billing plans or yearly plan. If you decide to go ahead with yearly billing periods, you will receive a better discount as well.
Free website migration
Once you sign up with any Hostgator hosting plans, you are eligible to receive free website migration. Therefore, you don't need to worry too much about migrating your website or web application from another service provider into Hostgator.
The team behind Hostgator will take appropriate measures to transfer the content from the previous web host, without charging you any money. However, you will only be able to get this offer within 30 days in signing up.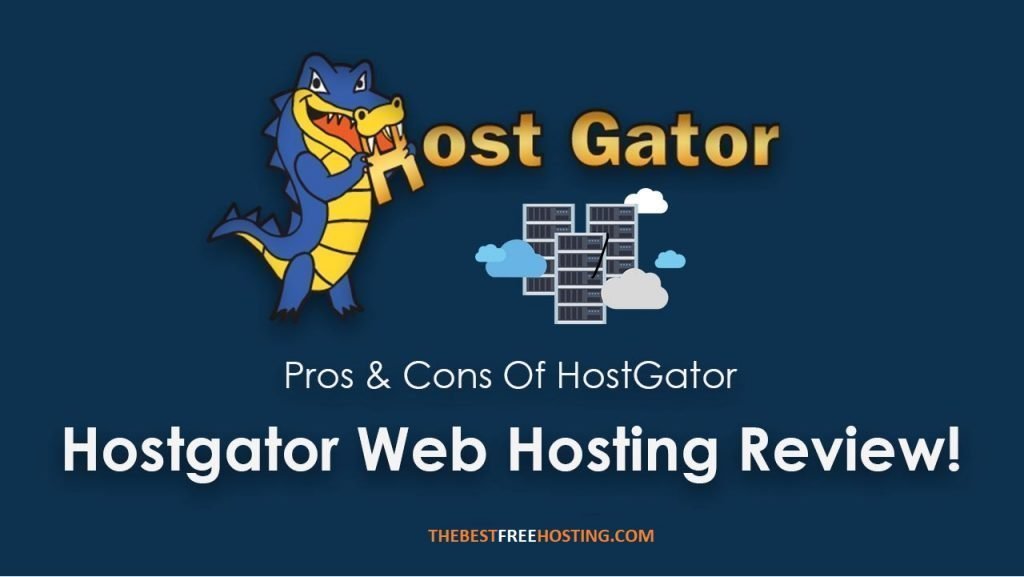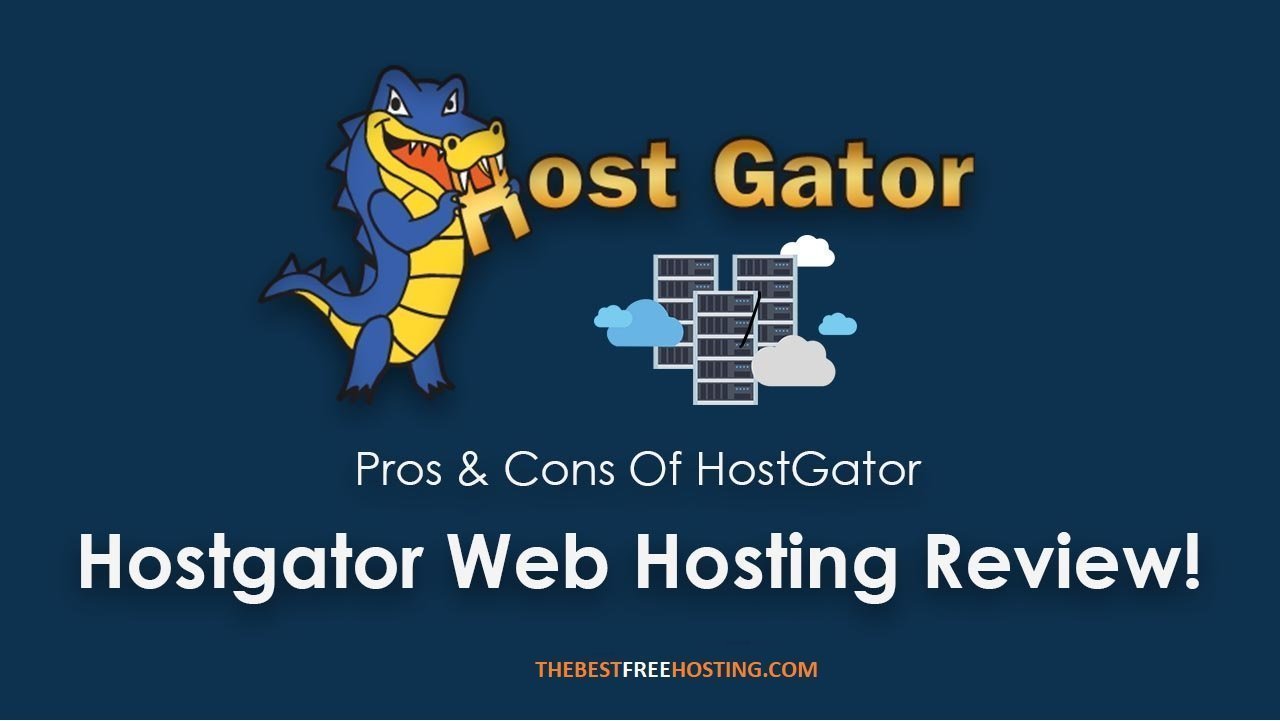 Cons of Hostgator hosting
No free domain
Some of the web hosting providers offer free domains to their users.
However, you will not get a free domain with the Hostgator hosting plans.
Therefore, you will need to spend your money to purchase the domain separately.
Hostgator is currently running a promotion for a FREE domain to anyone who purchases a hosting plan for them. Take advantage of this offer now.
Aggressive upselling
After signing up with Hostgator, you will have to experience aggressive upselling as well. You will notice that some of the services are pre-selected at the time of registration.
If you are not too sure of what you are getting, you are encouraged to uncheck them and proceed. This is the best method available for you to overcome an unexpected hassle. You can add them to your hosting package at a later stage.
Is Hostgator good?
Yes, Hostgator is good. Hostgator web hosting is amazing for small business, personal and medium websites. Hostgator offers you many advantages such as good lightning speed, 24hrs support, monthly affordable payment, and FREE SSL. You will also get whooping promotion credits and marketing bonuses.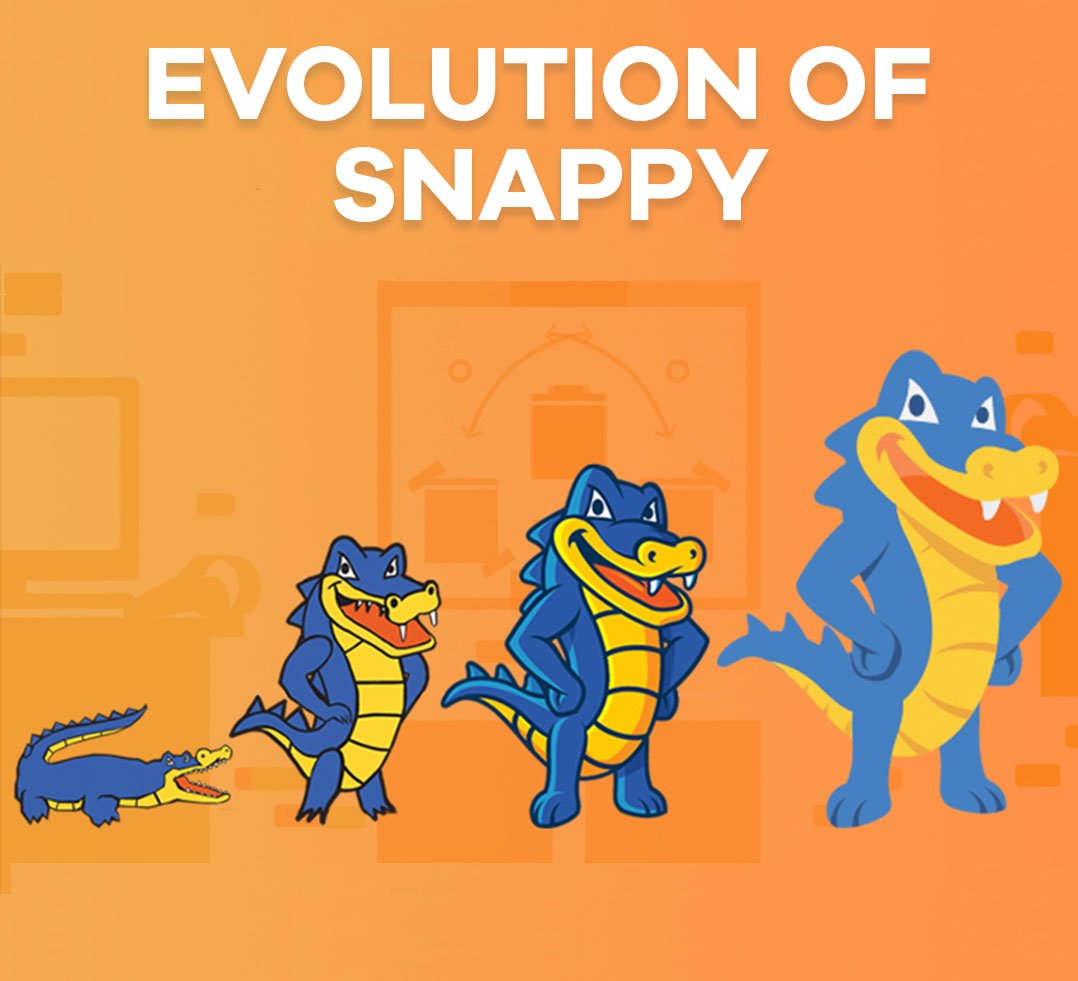 The reason why I am still hanging on with the company is that; it has a monthly plan and easy WordPress installation.
I can install WordPress site in simple few clicks and get my site running in a matter minutes.
I recommend Hostgator for those who are starting a small business. The monthly plan is suitable for testing out the features for 1 month to see if it's worth paying for. Though there are advanced web hosting plans for large websites that need more resources. You may as well test them out. There is no harm in trying.
What is Hostgator used for?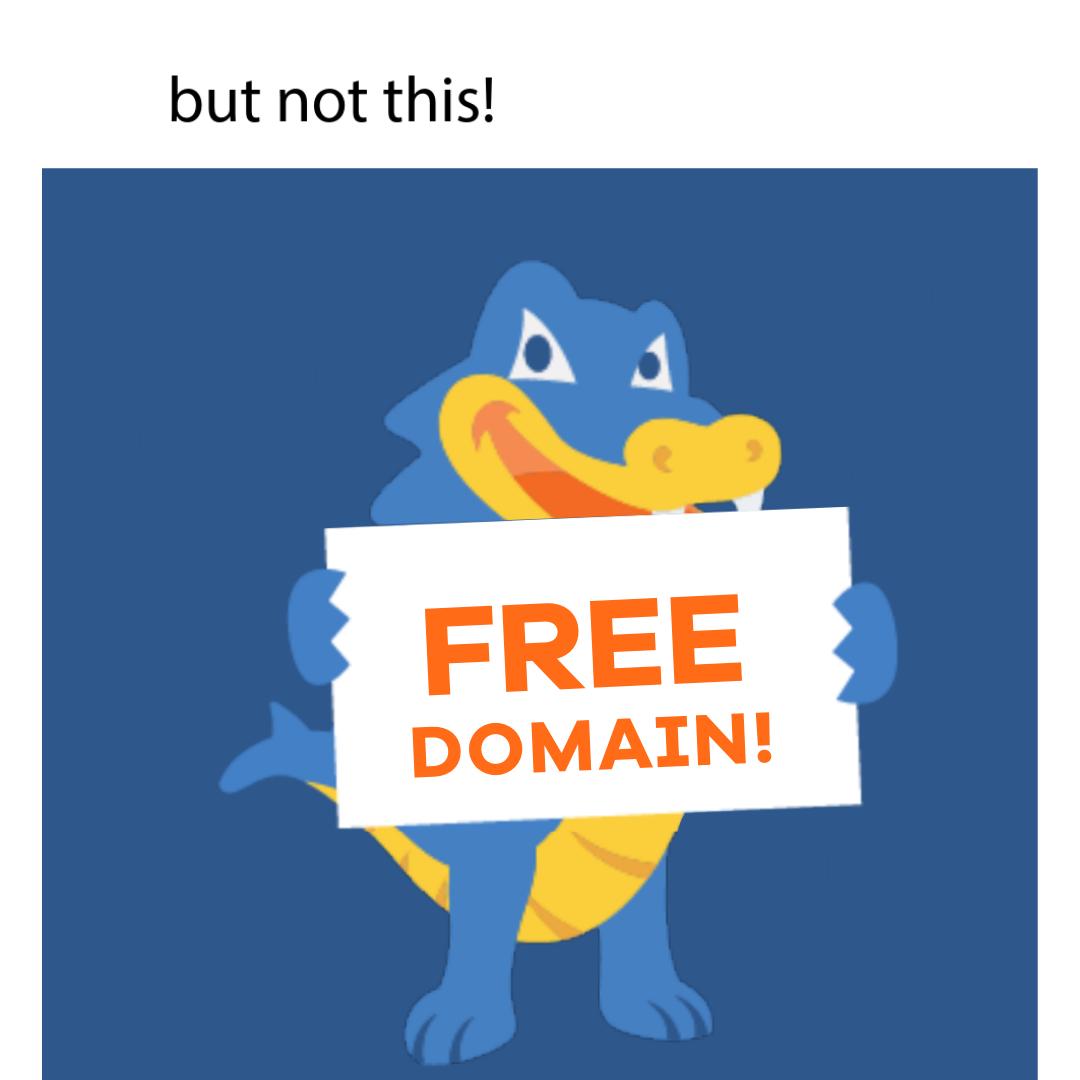 Let's describe what is Hostgator used for; Hostgator is a Web hosting company founded in 2002. Hostgator is used for hosting websites, blogs, and applications online. Hostgator is used for buying domains, hosting emails and websites.
HostGator is easy and secure hosting services for a small website and medium sites. HostGator is currently offering free domain on any web hosting plan. Hurry now and get your domain! It is available on an annual shared web hosting plan. Check it out now.
Is HostGator reliable?
I will say they are reliable judging from years of experience with HostGator. This company has been around for years and still maintains a leading position as one of the best hosting company for small and medium sites. HostGator has a large number of servers and knows for a shared hosting provider. HostGator has other reliable plans like dedicated and VPS hosting options.
Who owns HostGator?
HostGator was founded by Brent Oxley in October 2002. In July 2012 the company was sold to Endurance International Group for $299.8 million paid in cash.  EIG is an IT service company specializing in web hosting solutions.
Does HostGator support WordPress?
Yes. HostGator is amazingly good for WordPress. HostGator supports WordPress installations. HostGator has a simple quick install tool that allows you to install WordPress in one click. The tool is also applicable for other web features and applications.
 How does Hostgator work?
HostGator works in many ways depending on the use. HostGator has a website builder to help you launch out your business as quick as possible. The site builder is easy to install and manage. The website builder is available in a shared hosting plan for FREE.
 How much does HostGator cost?
Let's take a look at the cost of hosting a website on HostGator. The table below shows how much HostGator cost.
 SHARED WEBHOSTING
Hatchling plan cost $2.75 per month
Baby Plan costs $3.95 per month
Business plan cost $5.95 per month
WORDPRESS HOSTING
Starter plan cost $5.95 per month
Standard plan cost $7.95 per month
Business plan cost $9.95 per month
VPS HOSTING
Snappy 2000 cost $29.95 per month
Snappy 4000 cost $39.95 per month
Snappy 8000 cost $49.95 per month
DEDICATED HOSTING
Value Server cost $188.99 per month
Power Server cost $138.99 per month
Enterprise server cost $148.98 per month
Which is better Godaddy or HostGator?
Let's compare HostGator Vs GoDaddy: The fact is HostGator is slightly better than GoDaddy with the pricing plans and overall features. HostGator offers a cloud hosting plan while GoDaddy doesn't. HostGator has slightly optimized for speed over GoDaddy. In conclusion, I will recommend HostGator Over GoDaddy.
 Does Hostgator offer an email?
HostGator offers you free webmail in all plans. If you don't use the G Suit, HostGator allows you to own your company domain which can be configured in the Cpanel area. To create your email, Go to the Cpanel area>>Locate Create and Manage Email Accounts>> and create your email accounts.
 How do I log into my Hostgator cPanel?
To access your HostGator Cpanel, Login to your HostGator account >> in your portal you can access the Cpanel. Click the Cpanel.
Another way to go about this, find the email sent to your email after registering a hosting account.  In the email, you will see direct login URL to your Cpanel
 Does HostGator use SSD?
Yes. HostGator uses SSD (Solid-State Drive). It is a data storage technology that helps to speed up the website due to its efficiency.
Why should you think about using Hostgator hosting plans?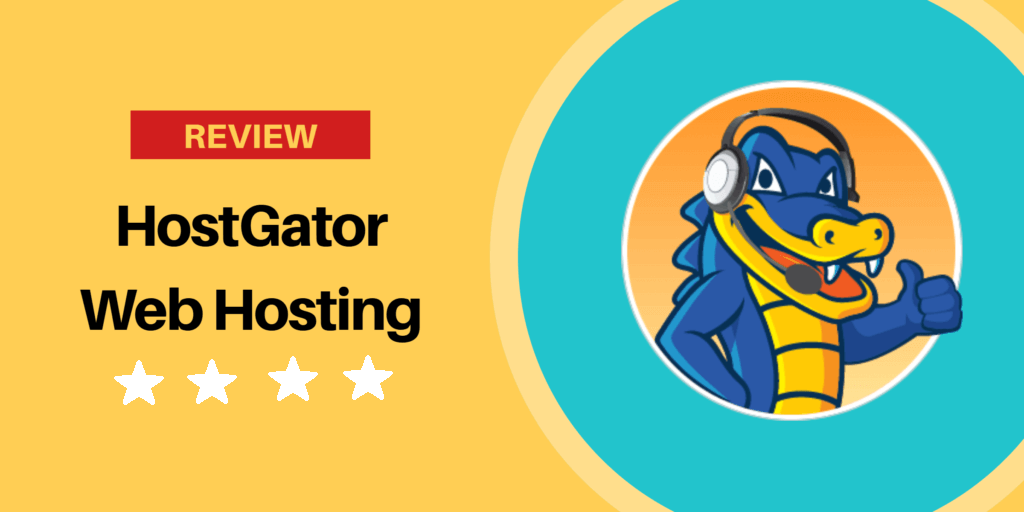 There are some obvious benefits you will receive when you signup hosting plans offered by Hostgator.
Reliable: Reliability holds a prominent place out of them. In other words, Hostgator ensures that your website will run 99.99% without a downtime.
In other words, you are rest assured your website or web application is up and running 24×7.
Performance: The level of performance offered to you by Hostgator is impressive. If you want a fast loading website you are encouraged to signup with their hosting plan.
Free Toll: Hostgator offers a free toll number to customers in the United States and Canada. If you got any question or issues with your website, simply hit them up on phone.
On the other hand, you access to live chat with one of the representatives from Hostgator 24×7.
The features that you get along with your hosting package are quite impressive as well. These features are in a position to provide great assistance to you with creating and managing your website at ease.
Even if you are a non-technical person, you can use the website builder offered by them to create your website.
Affordable: Besides, Hostgator is well-known for offering affordable hosting packages. If you are a person who doesn't want to spend a fortune on hosting, you may consider Hostgator.
You will get hosting at the fraction of a cost when compared to other lead players. Therefore, you will be able to save lots of money in the long run.
Conclusion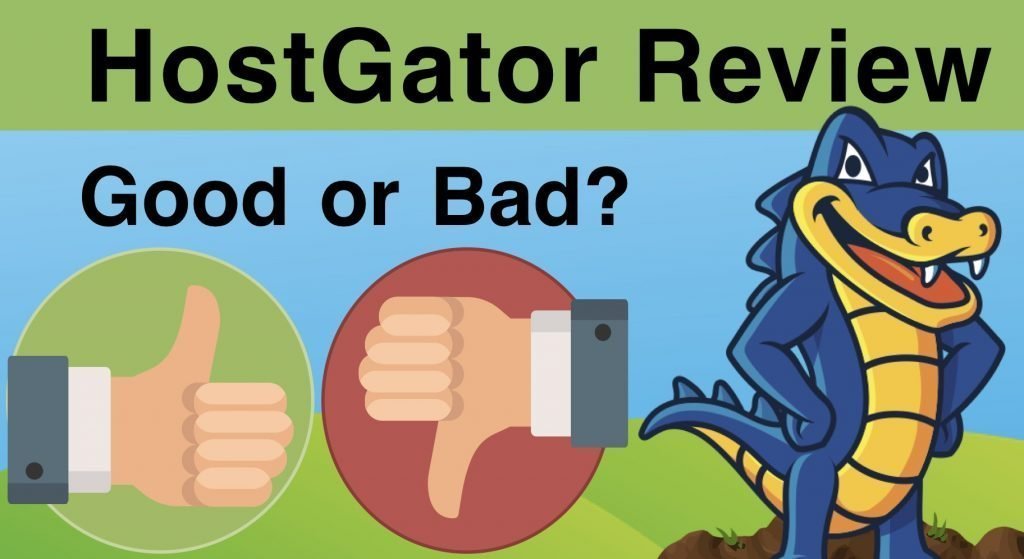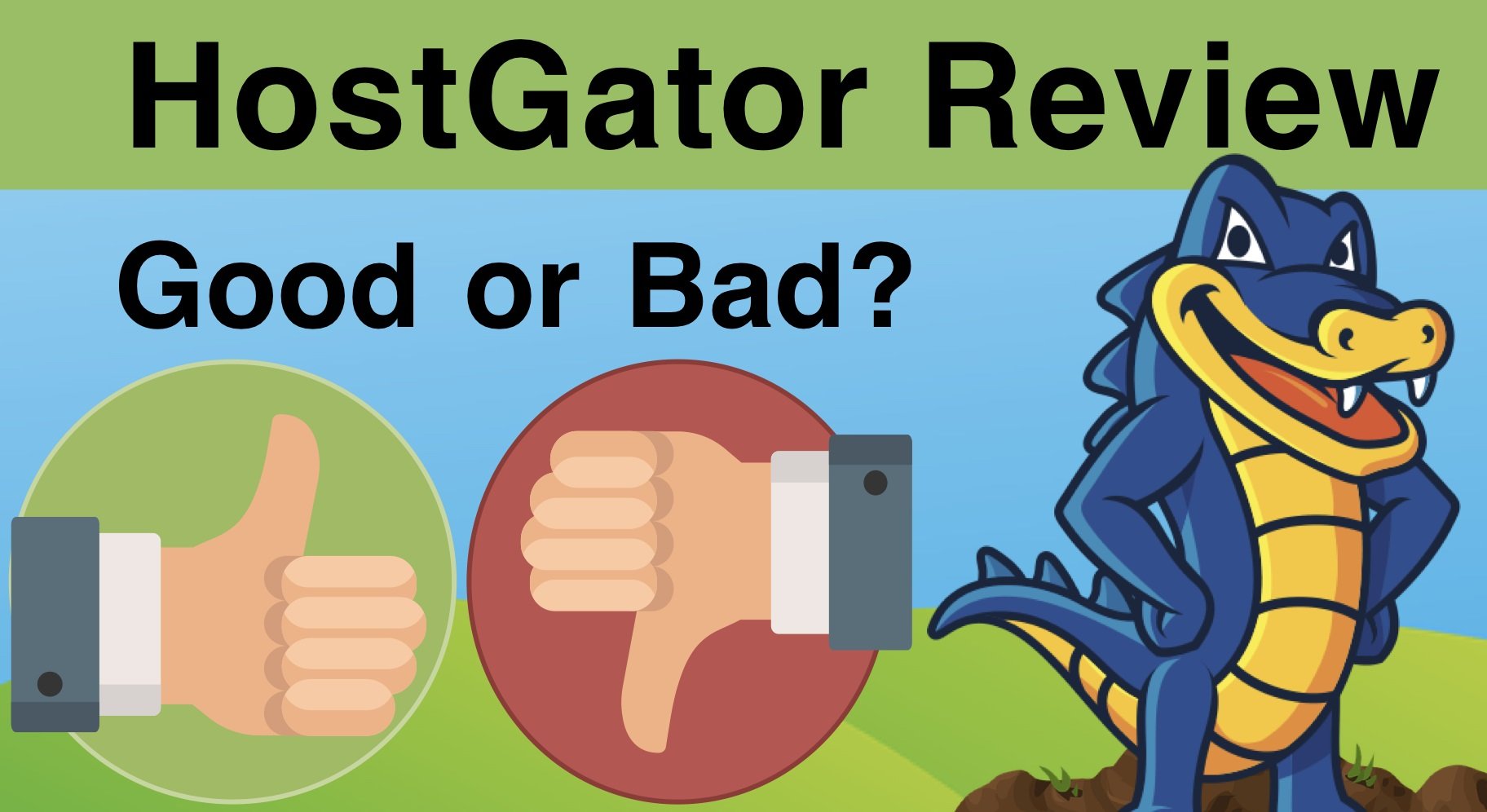 To summarize, Hostgator is a customer-friendly hosting service available for you to try.
You can go ahead and sign up for an account in Hostgator and purchase their hosting packages without thinking twice.
You will receive outstanding service from them at the end of the day.
On the other hand, you will be able to manage your hosting plan without encountering any difficulties. This can help you to keep the peace of mind in the long run.