Description
AwardSpace Review: AwardSpace is a free hosting provider for anyone looking to launch a website temporarily online. AwardSpace web hosting provides a free domain with a "dx.am" extension and three free subdomains to host your small website online.
---
AWARDSPACE WEB SITE HOSTING REVIEWS
You may want to upgrade to a premium web hosting service. You can choose from Shared Hosting, WordPress hosting, semi-dedicated hosting, VPS cloud hosting, and Free reseller hosting.
Save over a 90 percent discount when you purchase the premium package using the AwardSpace special link. In our review process, we will discuss the Pros, Cons, features, and benefits of the AwardSpace web hosting provider.
---
 Pros using AwardSpace Hosting
Provide 100% free hosting with dx.am extension
Fast ticket response time on a premium plan
Click-click WordPress installation
Ability to upload zip files
Easy login to Cpanel
Awardpace video guide
Awardspace free SSL certificate
Include website builder and backup
 
Cons using AwardSpace Hosting
Few Datacenters
Some hosting features don't come with the free hosting.

---
Why Choose AwardSpace Web Hosting?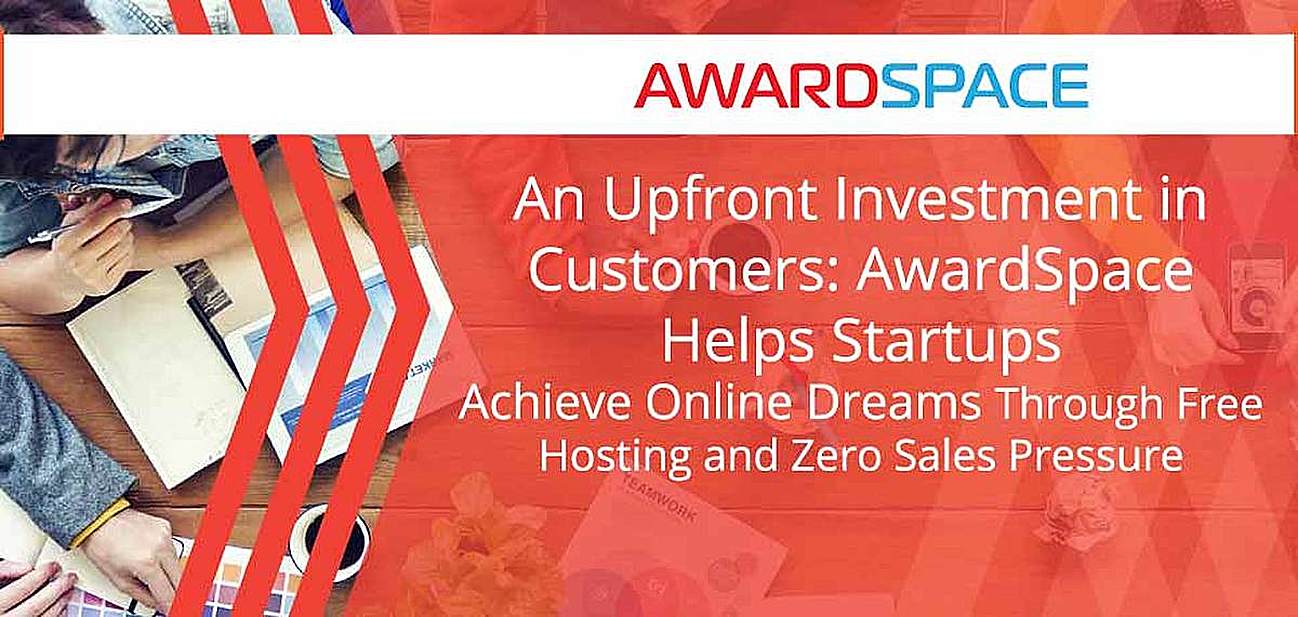 There are a couple of reasons why AwardSpace is suitable for small business hosting, which we will be discussing soon.
Base on customer support services, features, and other values, we have an average 3.5 score out of 5. This value looks quite impressive.
---
AwardSpace Website Hosting Right for Me?
Awardspace is a distinctive hosting company offering a web hosting solution. This is good for those who want to test out the services before subscribing to premium plans.
Though, as free hosting might present itself yet, it isn't the popular option. The reason is that most people will like to choose a higher domain level (dot com), which comes with premium hosting.
Follow along, and you know if the Awardspace is a hosting choice for you else, you may want to go for alternative hosting like these ones;
Awardpace Vs Hostinger
Awardspace Vs 000webhost
Awardspace Vs InfinityFree
Awardspace Vs Goddady
---
Awardspace Free features Review
Awardspace features three hosting plans designed to support any website size and enables you to scale as your business grows.
Awardspace initially provided Free HTML hosting. Later added other features (Linus, Apache, MySQL, PHP) in its free hosting package without allowing users to display banner ads.
In the Year 2005, they introduce a premium hosting service that comes with three plans, which we will be discussing shortly.

AwardSpace Review For General Hosting Features
99.9% Uptime: Awardspace is a free website hosting company continuously optimizing their website for speed and reliability. Your website is always Live to keep your business afloat.
Free Website Builder: web hosting comes with a Free website builder. With this tool, you can design your website and start running immediately.
24/7 Customer service: There customer support are available 24/hrs. to attend to your request. You don't have to feel bogged down when you facing some challenges with your website.
1-Click SMS Installer: The installers in Awardspace can be installed on your website in a matter of minutes.
100% Ad-Free: Take advantage of the Free hosting without any annoying display Ads from Awardspace.
Free DX.AM short Domain: If you wish to start with free hosting, you have access to Free Dx.am extension. Start hosting today.
---
AwardSpace WebSite Hosting Plans?
Awardspace offers various hosting plans including; free hosting without ads, here are the premium hosting plan available;
Shared hosting
WordPress Hosting
Semi-dedicated hosting
VPS cloud hosting
Reseller Hosting
Shared Hosting Plan
Awardspace Shared hosting is suitable for small and medium-sized businesses. It provides sufficient resources to run your website online. Awardspace shared hosting comes with a large number of features over the free hosting plan, including;
Unlimited Disk space
RAID backup
Free SSL
10X faster website
Extra email accounts
AwardSpace Shared Hosting Pricing Plans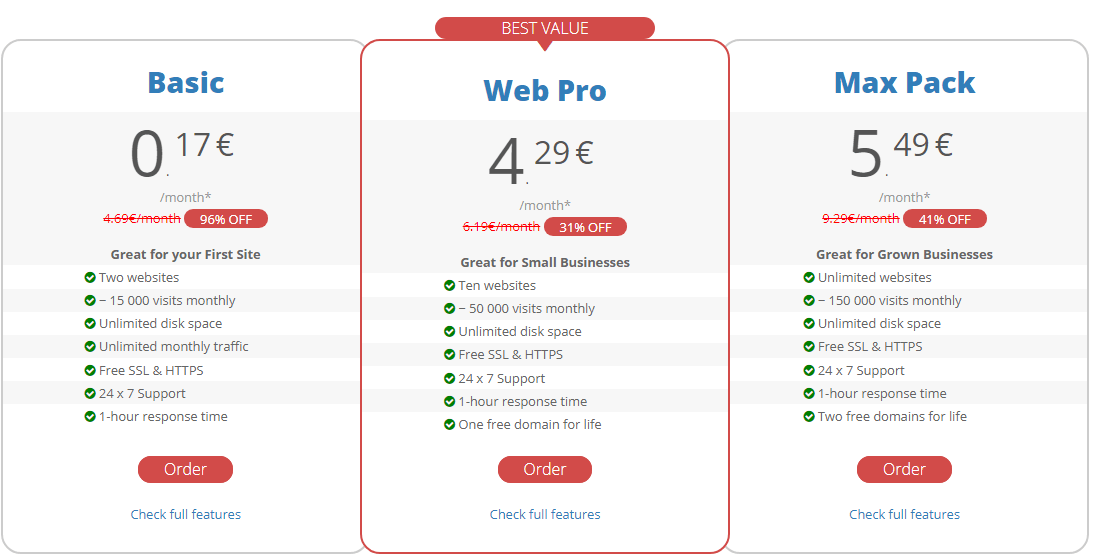 | | | | | | | |
| --- | --- | --- | --- | --- | --- | --- |
| Plan Name | Space | Bandwidth | Panel | Number of Sites | Price |   |
| Free | 256 MB | 10.24 GB | – | Unlimited | $0.00 |   |
| Basic | Unlimited | Unlimited | – | Unlimited | $5.07 |   |
| Web Pro Plus | Unlimited | Unlimited | – | Unlimited | $6.69 |   |
| Max Pack Plus | Unlimited | Unlimited | – | Unlimited | $10.04 |   |
The shared hosting plans come with three hosting plans to choose from. The hosting plan depends on your requirements, such as; website monthly traffic your website will be receiving. All shared hosting listed above comes with a FREE SSL certificate to protect your websites and improve the site ranking on a search engine.
AwardSpace WordPress Hosting
Awardspace's WordPress hosting has nearly similar features with a shared hosting plan. This hosting option comes with WordPress installer, WordPress tutorials, and automatic WordPress core.
Semi-Dedicated Web Hosting
This hosting plan is suitable for a website that needs higher resources or has more influx of traffic. AwardSpace offers semi-dedicated web hosting to suits your needs.
This web hosting plan comes with unlimited disk space, unlimited bandwidth, unlimited domain, and full customer support.
Semi-Dedicated Pricing Plan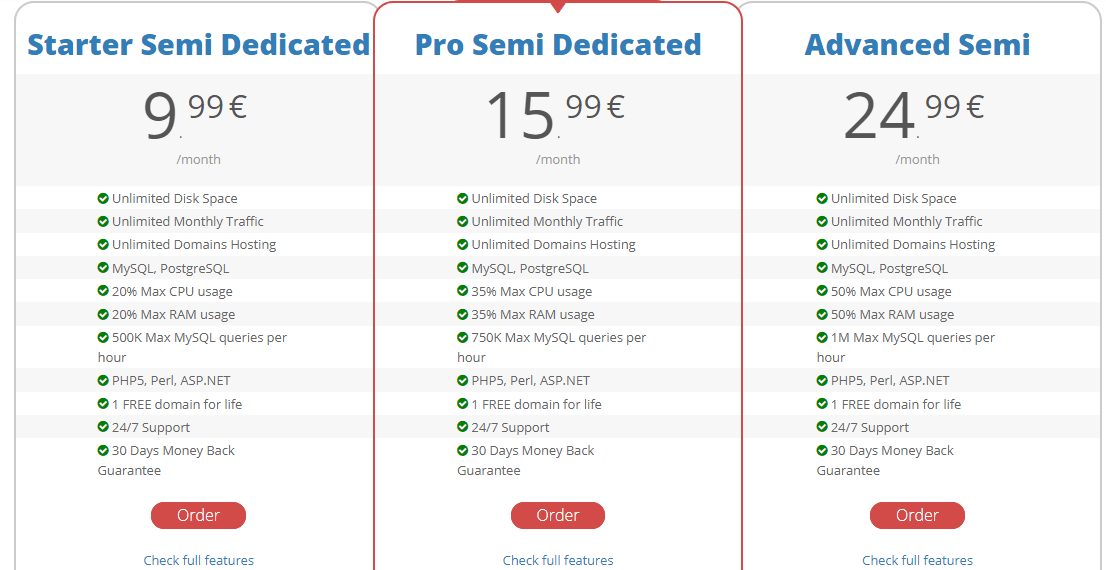 You can choose a database of your choice, and less restriction on the software's to use on the server. AwardSpace offers three semi-dedicated hosting plans with varying prices. However, the chosen plan will depend on CPU and RAM usage. The less expensive plan will handle less traffic, but the most expensive will cater to high traffic.
AwardSpace Review For VPS Hosting
VPS hosting is for those who want full control of their hosting environment. The hosting plan supports the highly-trafficked website and a much more secure environment since you aren't sharing with others.
| | | | | |
| --- | --- | --- | --- | --- |
| VPS Plan Name | Space | CPU | RAM | Price |
| Starter VPS | 25 GB | 1 core | 1 GB | $10.81 |
| Pro VPS | 50 GB | 2 cores | 2 GB | $21.62 |
| Advanced VPS | 100 GB | 4 cores | 4 GB | $43.24 |
Reseller Hosting
Awardspace also offers free reseller hosting for those who want to set up or provide hosting services. You can get the hosting portfolio at a discount price, and charge whatever you want your clients to pay.
Awardspace Uptime
The performance uptime depends on your plan, but ultimately all hosting option comes with 99.9% uptime guarantee by Awardspace.
Payments and Billing
Payment options are flexible. You can pay with Creditcard, Paypal, Bitcoin, and wire transfer. However, you must pay at least one year to secure your hosting plan. They offer 30 days money-back guarantee. If you cancel before 30days, you will get a full refund.
Awarspace Support System
Awardspace has various support systems including; Chat, Ticket, Email, and phone support. You can reach their customer support at any time of the day.
---
Should I Choose AwardSpace Web Hosting?
I think, base on the above reviews and other factors, they seem promising. Been the 110th top hosting out of 4000+ host companies means their services are recommendable.
Signup Now: http://www.awardspace.com?aid=MTkyNDE4MTkyMTIwMjE