5 Steps to Make $100/day with MaxBounty OFFERS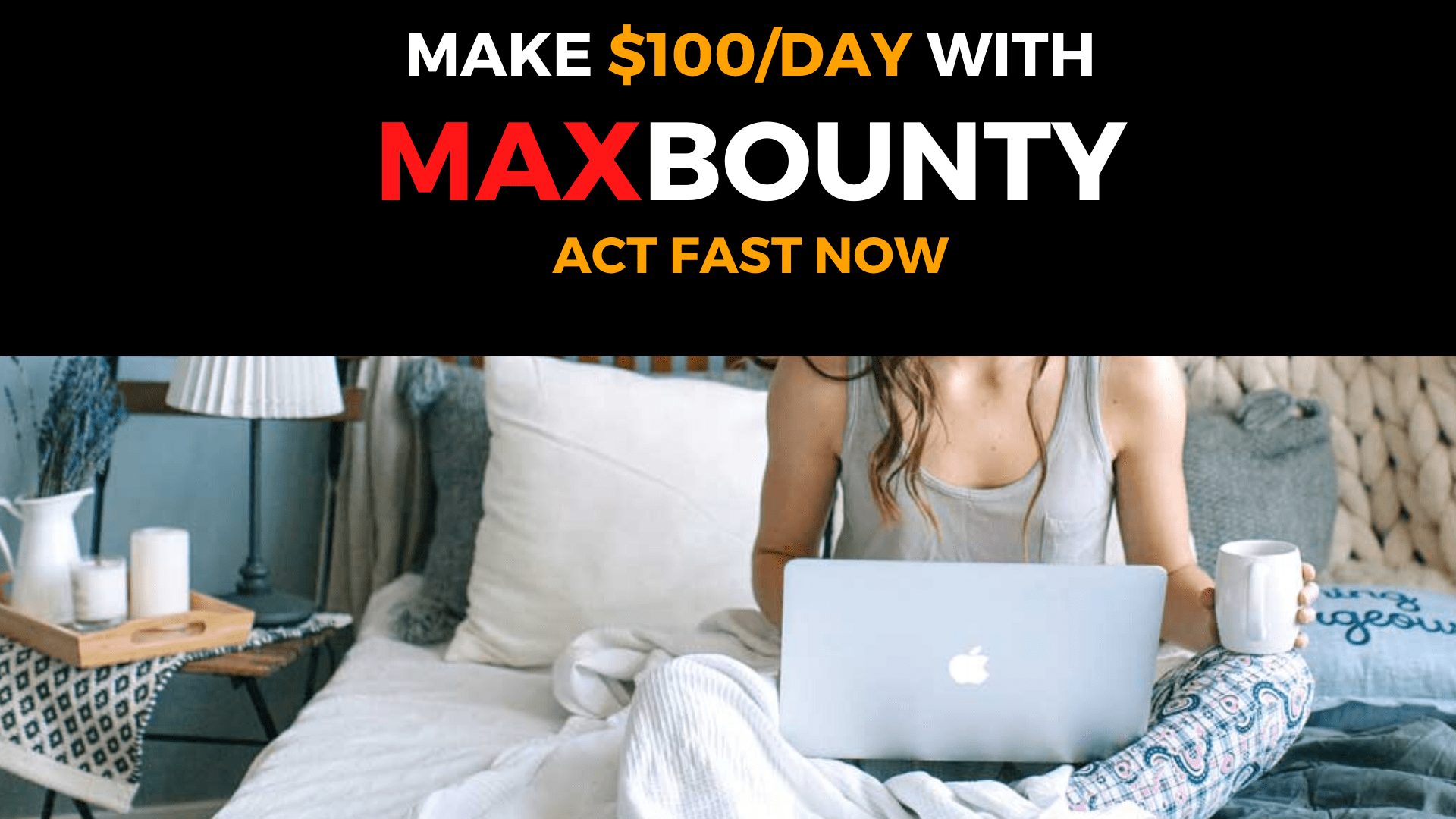 Maxbounty offers,  the largest and most lucrative CPA network in the industry.  You might be wondering how we can make money with MaxBounty CPA OFFERS? In this short guide, I will show you step by step process how to make $50 -$100 per day with Maxbounty.
How to signup for the MaxBounty account, get your account approved fast, double your MaxBounty earnings starting with just  $5 only. For the sake of other newbies who don't know what MaxBounty is;
What is Maxbounty?
Maxbounty is a CPA (Cost Per Action) affiliate marketing network providing list of  CPA offers and high paying affiliate programs on their platform, and you earn extra money when you send a visitor to perform certain actions to these companies.
Start promoting MaxBounty offers to make money?
Our objective here is to pick the best CPA offers from the Maxbounty affiliate network and promote these offers to make money. 
I will show you how easy it is to promote these affiliate offers for Less than $5 and Make  up to $50. That's $45 profit for every $5 spent.
Types of MaxBounty Offers?
When someone performs certain actions through your affiliate links Such as fill a form or buys a product, we get paid. I prefer to choose affiliate offers that pay's you per every Lead you sent to them.
Here are different types of Maxbounty offers
PPL (Pay Per Lead): Get paid when you send a qualified lead: Earn between $2 – $100/lead
PPS(Pay Per Sale) Get paid when you refer a qualified sales
Pay Per Signup
Step 1: MaxBounty Signup
Signup to Maxbounty Affiliate Network: The platform allows you to find hundreds of different affiliate programs to promote.
Step 2: MaxBounty Account Approval
They will call you to get your account approved. When responding to their approval questions, do let them know you are experienced in the affiliate marketing else they may decline your application.
To get your account approved fast, you need to answer a few questions like;
If you are been asked which countries you will be promoting your offers say "USA, CANADA, and other Tier one countries.
If they ask of traffic sources, tell them you will do paid advertising like Native advertising, Push Notification, and forum advertising.
Step 3: Find the Right CPA Offers To Maximize Your  MaxBounty Earnings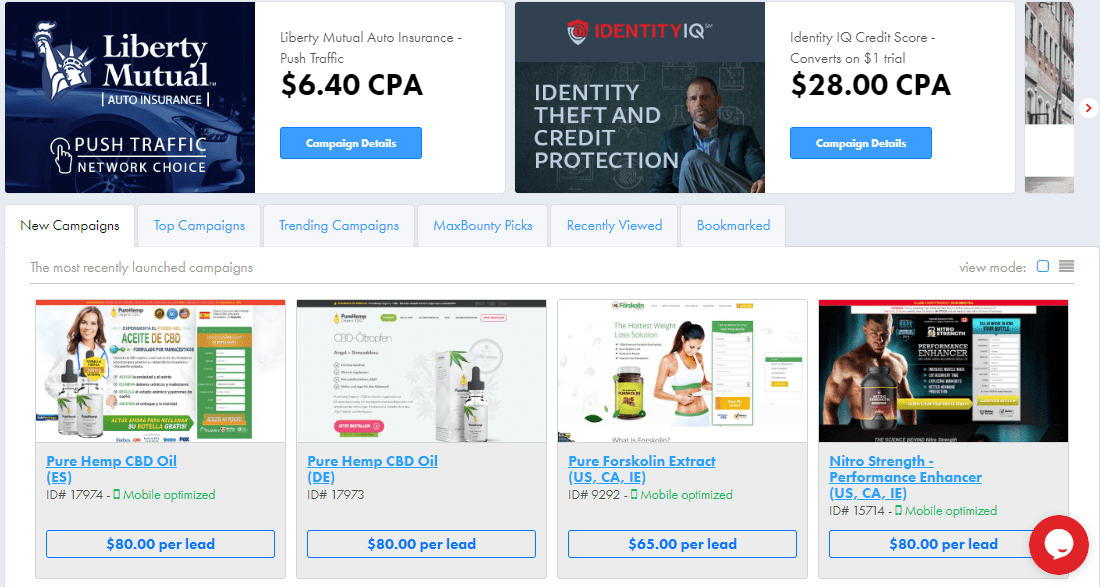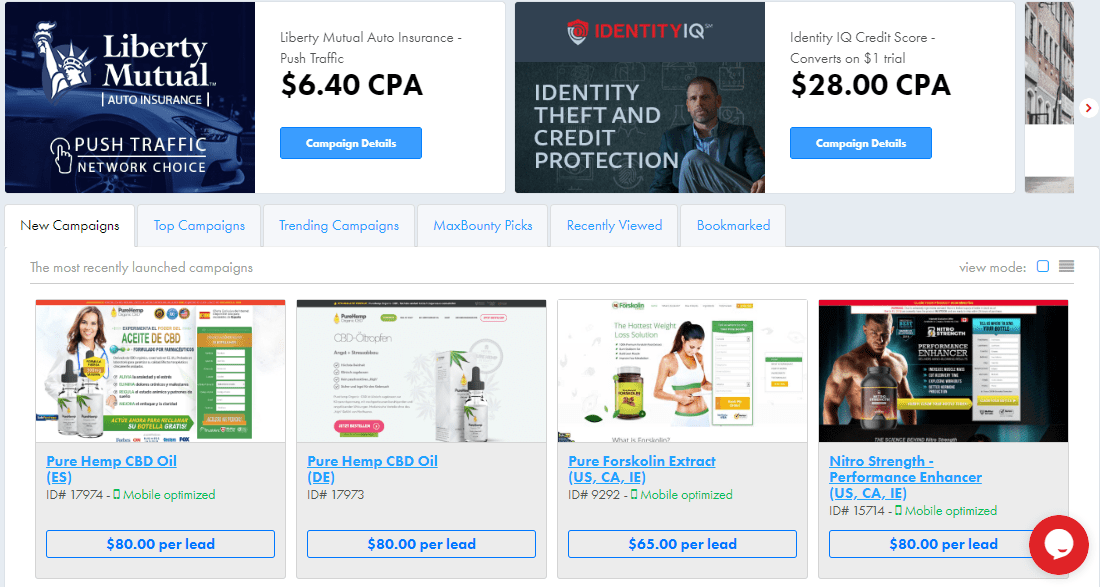 To proceed to next step, We need to Search for best converting Affiliate Programs to promote;
Login to your Maxbounty account and select which CPA offer you will like to promote.   
We would be driving sales to our CPA offers using push Ads notification and native ads. So, when choosing an offer, pick the one's that support these advertising methods.
You wouldn't have a problem with this as most Maxbounty offers support the native Ads and Push notification advertising.  
To Find Offers
Click "Search campaigns"
Click on "Search Options"
Deselect other traffic types leaving "Native"
Keep as All Countries
Select "Mobile Optimized" and "My Approved offers"
CPA: choose "Leads"
Step 4: Increase Your Maxbounty Earnings With Landing page (optional)
You can skip this step and go to step 5. Although this is optional, it's very important to have a landing page if you want to double or triple your Maxbounty earnings.  
Instead of driving traffic to the offer directly and making a few sales, you can boost your Maxbounty Earnings using a landing page to collect their emails before redirecting them to the offer.  
With their emails, you can remarket to those who didn't perform any actions with different interesting offers.
What do you need?
Domain: Buy from Namecheap.com ($8.99)
Get Hosting Plan From SiteGround ($71)
Website – Use InstaBuilder landing page ($77) 
Email Marketing – MailerLite  (Free)
Do it yourself or Hire an Expert to set up the landing page ($50)
Alternatively,
You can use ClickFunnels builder to build landing yourself in a matter of minutes with simple drag and drop features. Although this is fast and efficient, you need to pay a monthly subscription of $97.
Or Use Our service Support 
Do you need our help? We can assist with the design and set up process including, Domain, hosting, and building the landing page. Please contact us, and we will be glad to help you out for a small fee.
Step 5: How to Promote Maxbounty Offers?
Promoting your CPA offers is the last part of this whole process. We need a good Push Ads Network to promote our offers. Here are my favorite ones.
– RichPush: One of the highest converting affiliate friendly network. Drive Traffic as little as $0.0003 per click. The minimum deposit is $100.
Type of CPA Offers that converts well with RichPush
Sweepstakes

Nutra

Gambling

Dating

Finance

Mobile Apps
– MGID: is a well-grounded and trusted network to promote your Maxbounty offers. You can get incredibly cheap and quality clicks for Tier one countries. 
Promoting CPL offers will do incredibly well. The minimum deposit required is $100.  
Type of CPA Offers that converts well with MGID
Sweepstakes

vouchers & coupons

Dating

Gambling

Finance

Health & Beauty
– EvaDav: I haven't used this push network, but many affiliates say it converts like crazy. It has a minimum top-up of $100.
– MegaPush:  it's main focus is only on push ads. You can get traffic as little as 0.001$. it requires a minimum deposit of $100 to get started.
Type of CPA Offers that converts well with MEGAPUSH
Sweepstakes

Nutra

Gambling

Dating

Finance

Mobile Apps
Conclusion
I have done my best to put down this little guide to help you get started to making some money promoting Maxbounty offers. If you are seriously concerned about changing your financial situation, then you must act fast now.