Top 10 Cheapest Web Hosting Providers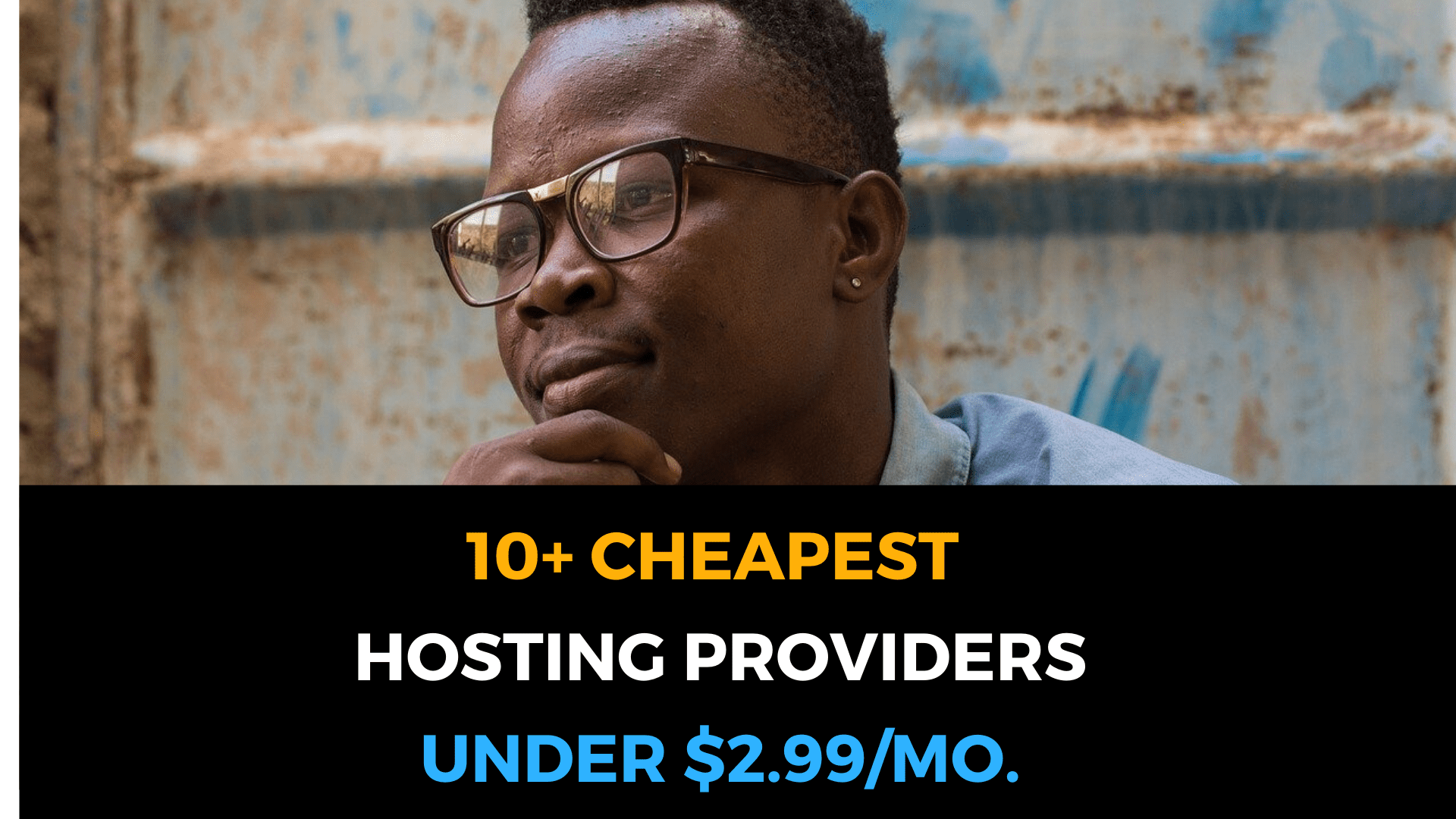 If you're looking for a reliable and cheap web hosting provider for your website, you're in the right place. We know finding an affordable web hosting company can be a difficult task, the reason is;
Most of the so-called "cheapest web hosting" providers attract people with a low pricing featured on their homepage, but customers end up paying 2X to 3X of price upon renewal including – the added features. This is not the type of web hosting plan you will like to purchase.
That is not all, sometimes it comes with limited storage, limited bandwidth, No SSL, which makes it virtually unsuitable to run your business in the long run.
To help you secure the best and cheap monthly hosting plan, we have recently tested dozens of hosting companies and, we came up with a list of affordable web-hosting providers, easy-of-use, high customer ratings, excellent support, and so much more.
Top 10 cheap web hosting providers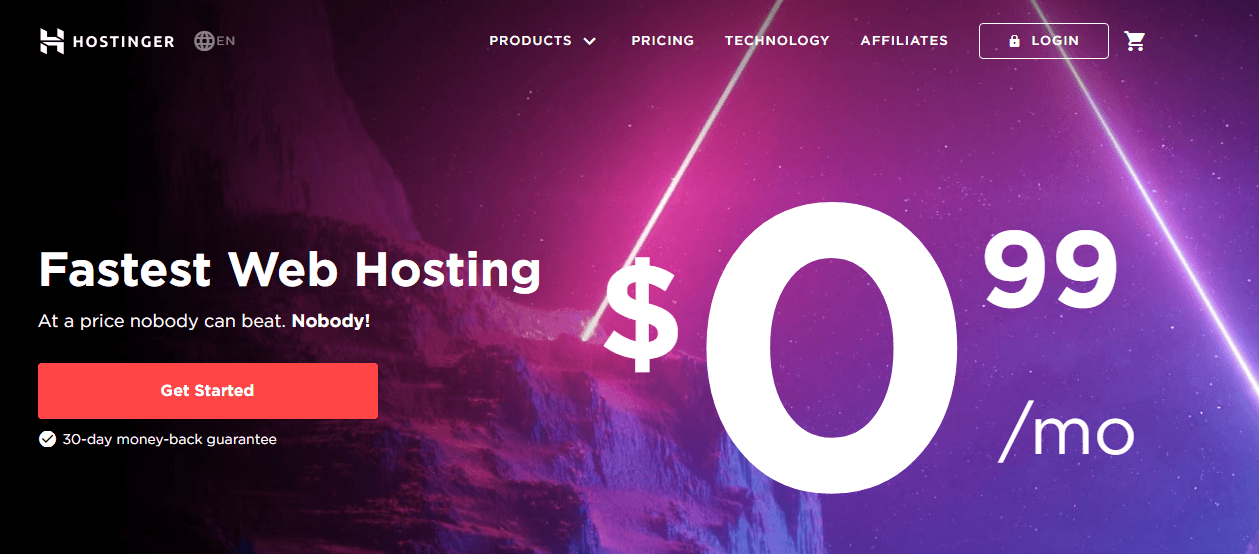 1. Hostinger Web Hosting:
Hostinger is ranking #1 on the list as the cheapest web hosting provider to date. Hostinger has its Pros and Cons, aside from being the cheapest web host.
Come with a FREE website builder and Auto WordPress Upgrade tool.

Cheap Monthly hosting plan 

Unlimited Bandwidth and Unlimited Storage or Disk space.

Daily backup and recovery system

FREE Auto Installation script for websites

A FREE SSL certificate and SSH Access
Normally, most cheap web hosting providers comes with flaws such as; poor customer services, Unreliable, and lacking hosting features. Fortunately, Hostinger is the complete opposite of the game.
Over the past 12 months, the uptime reports have been consistent at 99.97% range and, less than 10hrs downtime, that's amazing.
99.97 server Uptime

369ms server Load time

30-days money-back guarantee
Hostinger is one of the fastest web hosts, slightly behind other expensive hosting companies like GoDaddy. When it comes to customer support, they provide excellent Live support, 24/7 services, and ticket.
Hostinger is one of the few web hosts with a low pricing plan, reliable, and comes with a bunch of added features. 
You can sign up for their cheapest plan for $0.99/month. Paying $47.52 for 4 years hosting plan isn't a bad investment for this level of hosting with a lot of features.
Though, the renewal rate is $2.5/month after initial signup is still the cheapest among other web hosting providers. Shared hosting comes with variable plans. The "Single Shared Hosting" includes; a single website, email, 100Gb max bandwidth, and unlimited storage.
Visit Hostinger for Cheapest Web Hosting per year or read Hostinger full review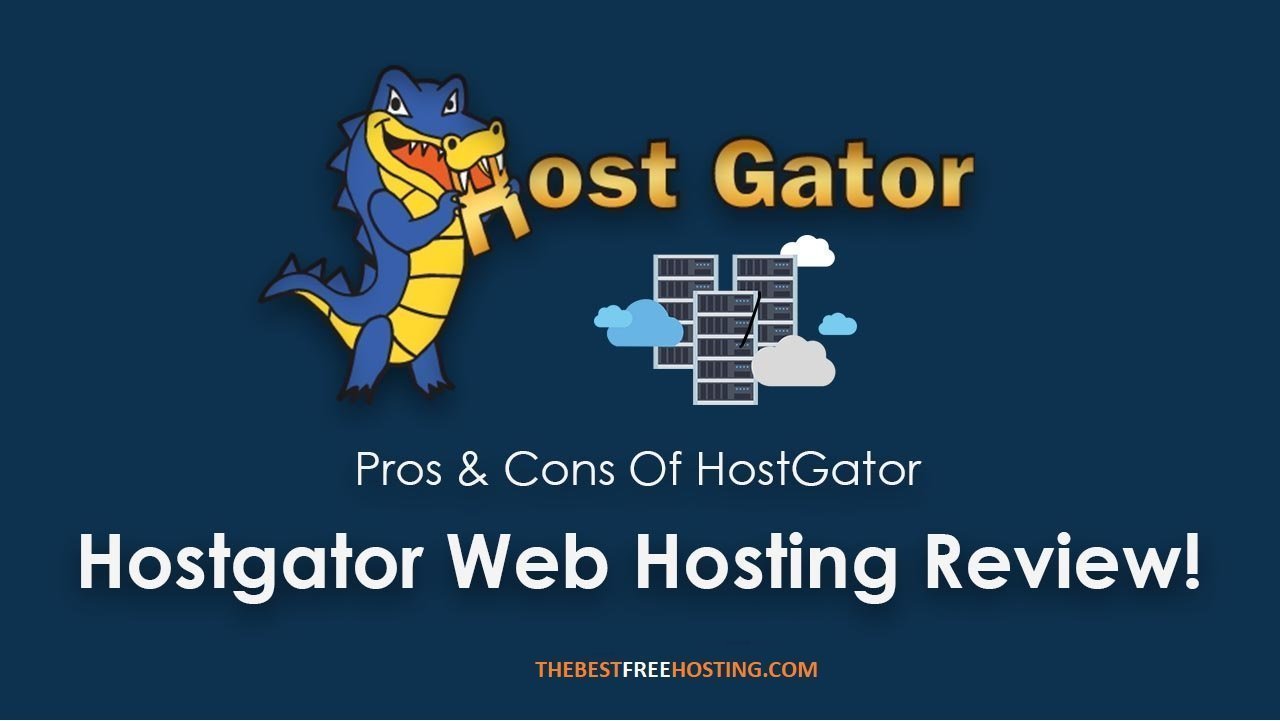 2. HostGator Cheap Web Hosting
HostGator is one of the biggest players in the hosting industry. Without any doubt, HostGator is the most popular web hosting company managing over 10million domains worldwide.
The company happens to fall in the list of cheapest web hosting providers, though I don't have much confidence in their shared hosting plan. When it comes to speed and load time, it performs poorly. 
At 1,007ms makes them the slowest and cheapest web host we reviewed on the list.
Here are some benefits you can bite off from HostGator if you which to signup for a hosting plan.
Unlimited Bandwidth
Unlimited disk space
Get 62% off paying for 3 years plan
Unlimited Email, Free SSL certificate
Cheapest web hosting per year plan
Use existing hosting or buy Domain for $1 Offer now
HostGator uptime is quite impressive for this, we can boast of them. HostGator has one of the best uptime among web hosting providers. There is some level of reliability when it comes to the HostGator service.
99.98% Uptime
1007ms Load time
30 days Money-back guarantee
HostGator hosting plan cost about $2.75/month for 3 years of hosting payment. For this plan, you will get Unlimited bandwidth, 1-year domain, free backup, restore Free SSL, and $100 Google Marketing credits. The renewal rate is $6.95/month after the initial payment. 
Visit HostGator for Cheap web Hosting Today or read our full HostGator review here
 3. Interserver Web Hosting(Now HostPapa)
Unlimited Storage
Unlimited Email
Unlimited data storage
99.9% uptime
0.01 For 1st month, and $5 after
Unlimited data transfer
Cheap Monthly hosting

4. A2Hosting

 Cheap Web Hosting
A2Hosting hosting has one of the fastest shared hostings with 336ms average load time. A2hosting is a lot faster than most web hosts and has maintained a level of consistency over the years. Let's see some added features that come with A2hosting plan
Unlimited Email addresses

Unlimited Databases

Free Cloudflare

1-Click CMS install

Unlimited domains

Cheap Monthly hosting

Advance security website features

24/7 Live support, phone, and ticket
Visit A2Hosting for Cheapest web Hosting Per year plan 
 orread our full A2 Hosting review here
Having a slow website can dramatically hurt your search engine ranking and lower your conversions. A2hosting provides a supercharge speed to power up any website on their server. The Uptime looks impressive as you can see below;
99.2% uptime336ms Load time

SSL Certificate included

Money-back guarantee
The uptime has been consistence for last year when we took our reading. The cheapest plan goes for $2.96/month. The lowest plan comes with 1 website and limited features not available as the expensive plan.
If you aren't satisfied with the features on the cheapest plan, you have to upgrade to the "Turbo server" that guarantees 20X faster speed. This plan costs $7/month for 2 years' commitment.
The $2.96/month A2 Hosting's cheapest plan comes with unlimited bandwidth, unlimited storage, site builder, email account, and 1-click install.
Get A2Hosting for Cheapest Hosting Today or read our full HostGator review here.

5. GreenGeeks Cheap Hosting
GreenGeeks is another cheapest web hosting on the list. GreenGeek runs an eco-friendly web service and very reliable better than most cheap web hosts.
Though, GreenGeek isn't as fast as A2hosting (336ms) or Hostinger (369ms) but has an impressive load time of 493ms and 99.95% uptime.
99.95% Uptime

493 ms Load time

SSL Included

Free Email account

30-days money back

Cheap Monthly Hosting
GereeGeek offers a generous features when it comes to customer support services that we found to be reliable. Their features come with the cheapest plan, available for 1 website only.
The cheapest plan goes for $2.95/month, which comes with 3years commitment. For this plan, you will get Free domain, unlimited email, unlimited bandwidth, and Unlimited storage.
The domain is renewed at $13.95 yearly upon renewal. The Webhosting renewal goes for $7.99/month after the initial signup is over. 
Get GreenGeek for Cheapest web Hosting per Year plan Today or read our full GreenGeek review here

6. DreamHost Cheapest Hosting
Dreamhost is one of the cheapest web hosting on the list and stood out among another web host due to money-back guarantee policy.
They offer you 3months money back way above the 30days industry standard. They are so confident in what they are offering that is why they allow up to 97days money back request
99.96% Uptime

719ms Load time

SSL Included

Email account Included
DreamHost Uptime has been consistent for the past 12months, 99.96 is impressive for a cheap host. The 719ms is also great, faster than most expensive web hosting services.
Though, they do not offer free email accounts, unlike other similar cheaper web hosts that provide an unlimited and limited number of email services per account.
Dreamhost offers some remarkable features such as; Free domain, Unmetered bandwidth, Free SSL, website builder, and full support of 1 website.
For $2.59/month, you will get a cheaper web hosting, renewed at $4.95/month.
Get DreamHost for Cheapest web Hosting per year Today or read our full DreamHost review here.

7.Inmotion Hosting 
Inmotion Hosting offers an excellent shared hosting plan. The price tag on this plan is affordable when compared to a few other cheap hosts. The hosting comes with nice features good enough to handle small business websites.
Has unlimited Bandwidth

Has Unlimited email account

Hack protection security suite included

SSL certificate included

Free Domain

Free Migration

Free Website Builder

Free templates included

Cheap web hosting wordpress
Get started on InMotion Cheap web hosting.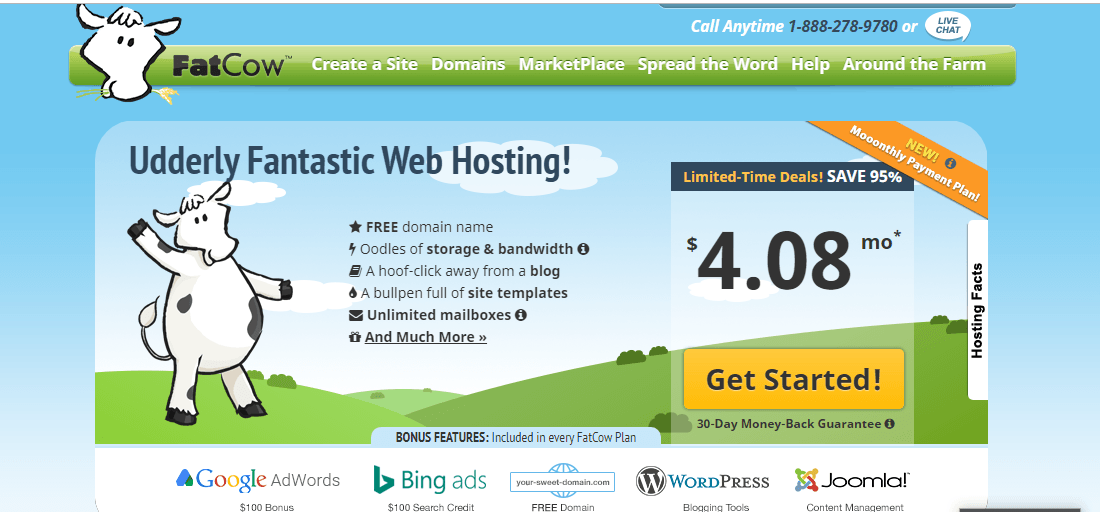 8. Fatcow Cheap

Monthly Hosting
If you are looking for a budget host, Fatcow is something you should checkout. They offer great hosting features at a low price. FatCow offers an affordable shared hosting plan, 100% eco-friendly powered by wind energy, user-friendly, and feels-good in general. 
Available 1-click install

Access to website builder

Excellent support services

Cheap Monthly Hosting

Free domain name inclusive

60% off for taking action today
Get started on FatCow Cheap web Per year Plan now.
9. Web Hosting Hub
Web hosting Hub is another cheaper web hosting provider on our list. If you are looking for a budget web host, give them a try. At such an incredible price, they offer a lot of nice features and great value for their customers.
Cheap monthly hosting

Unlimited storage

Unlimited bandwidth

Unlimited email account

Free website builder

Free eCommerce tools

Free marketing credit on Facebook

Cheap web hosting WordPress

Free $100 marketing credit in Bing and Google

Comes with over 400+ 1 click app installers
Get started on Cheapest Web Hosting Per Year Plan.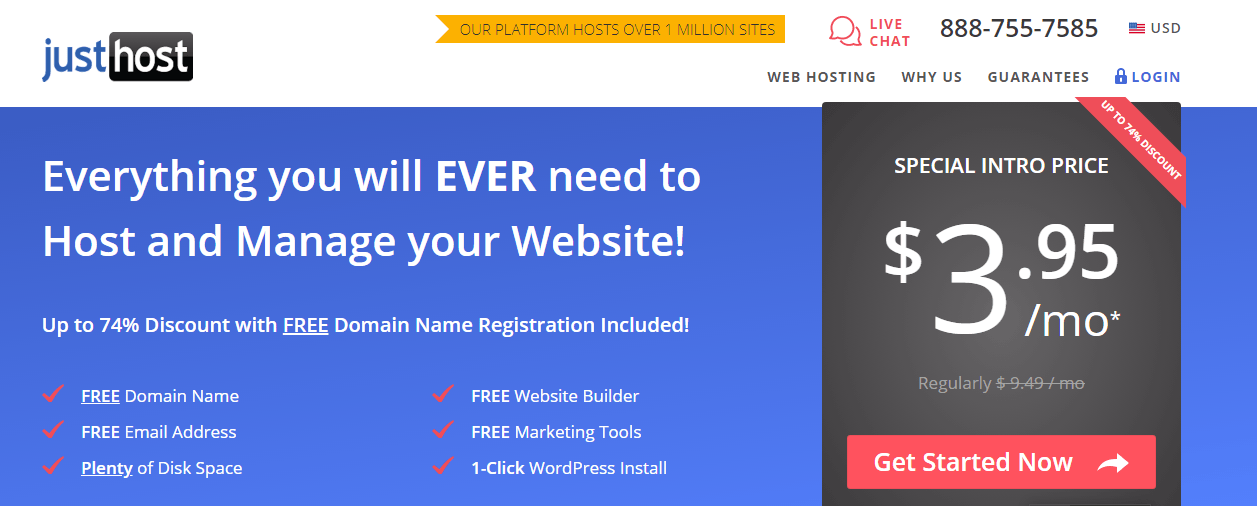 10. JustHost Cheap Host
JustHost come with a lot of freebies on the shared hosting plan, offering great value for their clients at an affordable price. JustHost come with the best deals and nice features included in the account. If you are looking for a reliable and cheaper web hosting provider, JustHost is right before you. 
Cheap Monthly Hosting

Come with Free Site builder

Unlimited email account

24/7 Live Chat Support, Email, and phone

Free website builder

Free marketing tools

Free domain name registration 

Free SEO tips and guides

Cheapest web hosting WordPress
Get  Start with Cheapest  web Hosting per  year  on JustHost or read our Full JustHost review here
Best Cheap Web Hosting Services (Builders, Server, Domain)
There is a multitude of web hosting providers competing on pricing, though some of them may not live up to the promise as advertised.
We have done the job to provide you the cheaper web hosting that is reliable for any business startup or established website.
Buying a cheap web hosting plan may not be ideal if you aren't sure of what service they will be rendering.
After rigorous testing, we are confident to cover the most affordable hosting plan listed above.
How much does it cost to host a website?
We know starting up and hosting a website may cost hundreds to thousands of dollars. The cost of hosting a website is not as much as the cost of building a website if you are going for cheap hosting.
The reality is' most cheap web hosting plan costs between $1.99 to $15 per month for shared hosting. If you have a much bigger website, you increase your budget for high plans that goes up to $25 – $100 per month. 
If you want some special hosting requirements featured in hosting plans like cloud hosting, dedicated, and reseller hosting, you will need to increase your budget a little higher.
Other Potential cost associated with hosting includes;
Domain name registration

Website builder

SSL certificate

eCommerce tool
To get the best deals, we advise you to consider buying from the recommend affordable hosting providers listed above.
How to Find Cheap Domain Names?
The first step to take before creating a website is to find your domain name. Normally, most web hosts offer free domain name registration if you are buying a hosting plan from them, while some web hosts charge between $1- $15 per year.
GoDaddy cost $0.99 for first-time users
Namecheap cost $8.99
Ionos cost $0.88
1and1 cost $0.8
Bluehost: Free Domain
There are hundreds to thousands of them offering cheap domain or free domain name registration. In nutshell, a domain name is an insignificant cost and not something to worry much.
 It may be something worth considering when you are buying bulk domains. 
Note: I will recommend you to keep your domain names separate from your hosting account. The reason is that; it protects you against unforeseen circumstances. 
Some web hosting uses the free domain as a bait to get you in, but when you want to move to another host, they will not allow you to transfer the name.
 I like using Namecheap and GoDaddy for buying my domain names and hosting my websites with a separate hosting company. I will recommend using Siteground to host your website